Isobel MacKenzie – Monitoring Seniors Services reports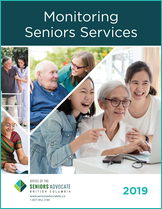 The Monitoring Seniors Services report focuses on key services in the province that fall under the Advocate's legislated mandate. It highlights where seniors' needs are being met and where improvements are most needed. Access to health care, appropriate housing, adequate transportation, enough income to meet basic needs such as food, shelter and medicines and protection from abuse and neglect are key to the health and well-being of seniors.
The Monitoring Seniors Services report, first published in 2015, is updated each year reflecting the latest information available. This fifth edition focuses on 2018/19 data.
Report highlights include:
The seniors population is generally healthy; 19% are living with high complexity chronic conditions, and only 6% are diagnosed with dementia.
The number of home support clients increased 1.7%, however this is due solely to short-term home support clients who increased 5% while long-term clients decreased by less than 1%.
Average and median wait times for clients admitted to long-term care increased slightly, but the number of people still waiting for admission at the end of 2018/19 grew by 28%.
The property tax deferment program has been growing each year, but in 2018/19 there were fewer new clients for the first time in many years.
There were 24,233 SAFER recipients, 6% more than last year; 4,458 clients were new recipients.
78% of seniors in B.C. maintained an active driver's license. This was 4% more than last year and is consistent with the growth of the seniors population.
Low income seniors could receive up to $1,579.21 per month in federal and provincial income supports, an increase of 2% over last year.
The Seniors Abuse and Information Line (SAIL) received 4,372 calls of which 31% were related to abuse, 47% related to non-abuse and 23% were for general information.
View the current report:
Monitoring Seniors Services 2019
Monitoring Seniors Services PowerPoint presentation
View previously released documents:
Monitoring Seniors Services 2018
Monitoring Seniors Services 2017
Monitoring Seniors Services 2016
Monitoring Seniors Services 2015
CONTACT US
Need help with seniors' programs and services? Speak with one of our Information & Referral analysts, Monday to Friday from 8:30 a.m. – 4:30 p.m. (except statutory holidays).
0
0
admin
admin
2020-06-16 09:02:12
2022-03-30 17:03:14
Isobel MacKenzie – Monitoring Seniors Services reports